Activities
The village of Saint Jeannet and its region offer a varied range of activities for everyone: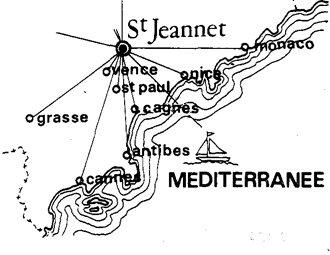 Think of reserving your leisure activities with :
The Walks:
Around the village, beautiful and cultural.
& Ballads
> Trails Village site: Sentiers-village
Climbing:
The Baou: wonderful overhanging rock mass
the village of Saint Jeannet offers 550 climbing
routes. for all levels.
Contact for further information:
> "Les Lézards des Baous"
> Restaurant "Le Vieux Four" Tel.: 04 93 24 97 41
Speology:
Journey to the center of the earth...
> Planète Spéléo
Gastronomy:
Enjoy the flower market in Nice and taste
the succulent "Socca" (cake chickpea flour grilled over
a wood fire), our little "farcis" of vegetables take-out
or on site.
Rediscover the original taste of the true "Pan Bagna"
or "salad Niçoise", treat you to our fresh fish of the
Mediterranean as well "di Merda can".
The Old Stones:
To understand the cultural force Mediterranea
stroll in the heart of old Nice, the old Antibes,
the old one morning in Cannes market.
Explore the fortifications of Villefranche sur Mer,
Saint-Paul de Vence, Tourettes sur Loup,
and all others villages.
Painters:
The Riviera is a region bathed in a unique light
the great painters did not make a mistake and
many came to work there.
So you can discover their workshops, homes and work.
> La Chapelle Matisse - Vence, 10 mn.
> The Maeght Foundation - Saint-Paul, 15 mn.
> The Renoir Museum - Cagnes sur mer, 25 mn.
> The Matisse Museum - Nice, 30 mn.
> The Chagall Museum - Nice, 30 mn.
> The Naive Art Museum - Nice, 30 mn.
> The Modern Art Museum - Nice, 30 mn.
> The Fernand Leger Museum - Biot, 25 mn.
> The Picasso Museum - Antibes, 30 mn.
The Artisans of Art:
Integral to our regional cultural heritage
still in operation.
> The Glass - Biot, 25 mn.
> The Ceramics - Vallauris, 40 mn.
Perfumes:
World Capital of perfumes of Excellence,
visit the perfumeries of Grasse.
> Museum of Perfume - Grasse, 40 mn.
The Sea:
> The Lerins Islands - Cannes, 40 mn.
Site of botanical walks and swimming in creeks,
the Riviera of yesteryear, with vineyards, abbey,
fortress and prison in the "Iron Mask" ...
15 min shuttle crossings - boat from Cannes.
> The Oceanographic Museum - Monaco, 40 mn.
> Maryneland - Antibes, 30 mn.
The Beaches:
- The closer to Saint-Jeannet: Cagnes sur mer, 20 mn.
- Pebble beaches: Nice to Antibes.
- Beaches: Antibes to Cannes.
The Mountain:
> The Valley of Wonders - 1h30.
> The Ski Resorts of the Mercantour - 1h-1h30.
> Mercantour National Park - 1h-1h30.
> Canyoning and Paragliding sites - 50 mn.