Access Map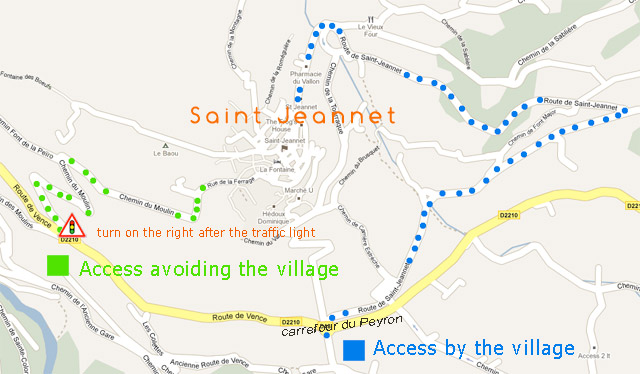 See the map with more informations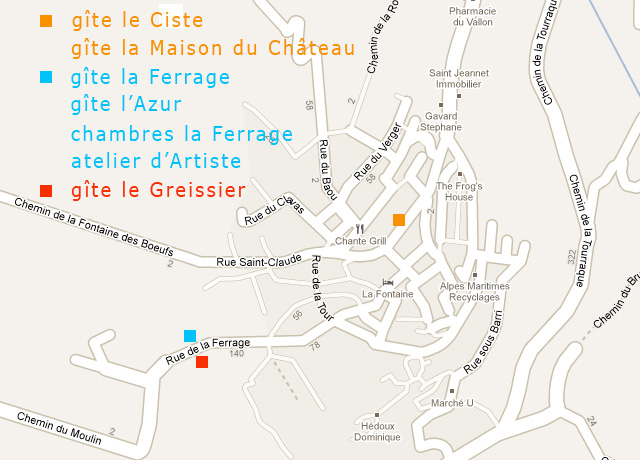 Download the PDF of access to lodgings
Larger Map to get direction
Arriving at the village of Saint Jeannet
The simplest route to go to the lodgings:

The village is accessible only to vehicles less than 22 seats,
for other vehicles:
park in the large car park at the entrance
of the village, deposits are located at 500 m
in the village.


Access deposits:
"La Maison du Château" & "Le Ciste"
> Let the public parking on your left,
then post on your right to arrive
at the Place Ste Barbe.
Take the Ste Barbe straight ahead,
pass a Bakery, 30 m further, on your left,
the rental:
40 Rue du Château - 40 Castle Street (opposite the restaurant "The old oven").


Access deposits:
"L´Azur" - "Le Gressier" & "La Ferrage",
> Follow the same route as for room
" La Maison du Château",
the Town Hall, turn left,
the second Bakery on your right
turn right and go down straight,
pass a "bridge":
the cottage is 30 m on your right:
101 rue de la Ferrage
in front of an entrance garden


Transportation :
> Train - Nice Train Station
> Aircraft - Nice Airport Internationnal
> Car - Exit Recommended: "Cagnes sur Mer"



- Car Rental


Download the PDF of access to lodgings.